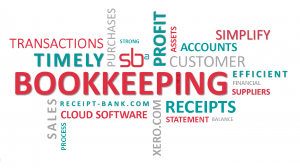 With so many choices on how to keep your books we think Xero is the best option for small businesses.

Plus until the end of March 2015 we can offer two months' free subscription worth over £40!!
Owner managed businesses have a wide choice when it comes to the ways they can undertake and record their bookkeeping. Below are the more common ones, along with our preferred method and supplier:
Manual books
OK, there's not many of these around these days, but I do know a few people that are still using them!
Spreadsheets
These are frequently used and I am always amazed by the mistakes they contain. There are often errors in the formulas, the formatting could be improved, wrong dates are included – all of which can lead to additional time and costs at the year end.
Bookkeeping packages
These rely on backups of the software being emailed to accountants at the year end.  Not to mention the need of data backups and disaster recovery in case your computer dies.
Cloud packages
We think this is the best solution, and is something we are passionate about. They offer a number of benefits over the other options above.